(CNN)
Twenty federal criminal defendants related to last week's deadly pro-Trump riot at the US Capitol have been rounded up across the country since the insurrection, with the allegations showing the danger of the mob.
Some of the defendants are accused of bringing weapons and bombs to Capitol Hill, indicative of the extremism of parts of the crowd. Others were photographed ransacking the building, smiling while posing with congressional items such as House Speaker Nancy Pelosi's lectern or at her staffer's desk, or publicly bragged about the crowd's violent and destructive joyride.
Weapons and bombs brought to DC
The most unsettling of the allegations so far appear to be those against Lonnie Coffman, an Alabama man charged after authorities found 11 homemade bombs, an assault rifle and a handgun in his truck parked two blocks from the Capitol. The truck had sat there all morning during the pro-Trump rally, and Coffman was arrested as he tried to return to the vehicle after dusk.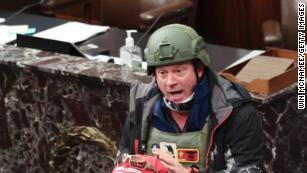 Larry Rendell Brock Photo: CNN
In another startling complaint, Cleveland Grover Meredith Jr. is accused of writing in text messages that he wanted to shoot House Speaker Nancy Pelosi, and that he had brought hundreds of rounds of ammunition and three guns to Washington, DC, having driven from Colorado, according to court records.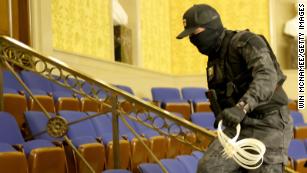 Eric Gavelek Munchel Photo:CNN
On Sunday night, authorities arrested two more men, Eric Munchel of Tennessee and Larry Rendell Brock of Texas. Both had drawn attention online because of photos showing them wearing body armor inside the Capitol building and carrying plastic ties that could restrain a person.
Publish : 2021-01-12 12:27:00